Welcome to the RPL Assessment Portfolio Tool where you can build an online portfolio to help you gain access or advanced entry into a higher education programme in the Institutes of Technology in the Connacht-Ulster region including Galway-Mayo IT, LyIT and IT Sligo.
Before you start creating your online portfolio there are a number of steps you must take!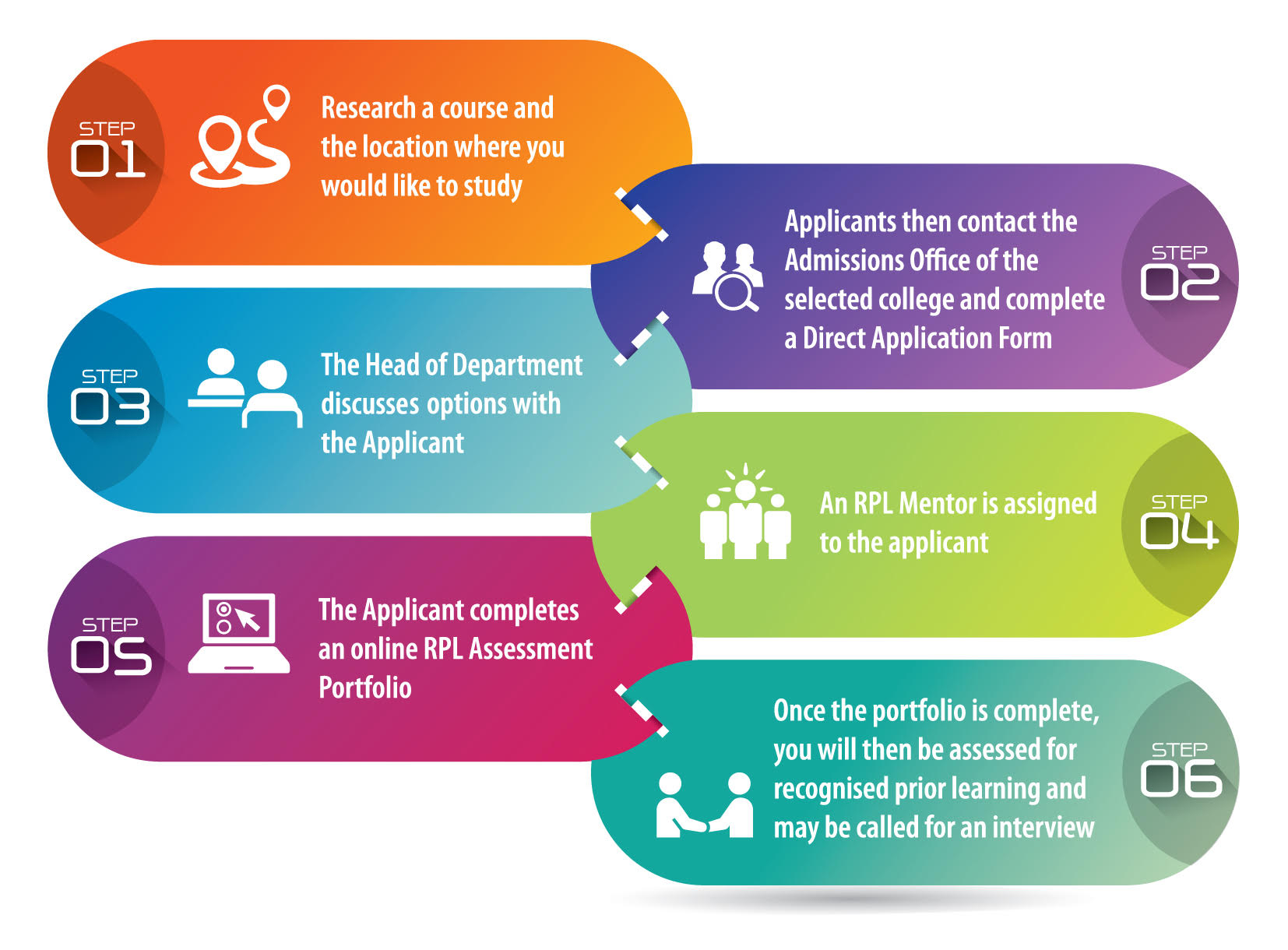 Research a course you are interested in at GMIT, IT Sligo or LyIT at the following links
Important: Candidates must first consult with a head of department (see Contacts) and then complete the institute direct application form BEFORE starting the ePortfolio. Please follow each step outlined above.
Please note an assessment fee of €100 applies to all RPL portfolio applications.
PLEASE NOTE: GMIT RPL Assessment Application Fee is Non-Refundable.

---
Use the table below to help you narrow down the types of evidence of prior learning you might use to seek advanced entry or exemption from a module on a programme you are interested in studying.
Please note: you may use the same evidence for more than one learning outcome when completing your RPL portfolio.
Types of RPL evidence
Explanation
Examples of evidence
Formal learning
Courses which were formally organised and assessed.

Certificates
Transcripts of results
Syllabi
Research reports/thesis

Non-formal learning
Training events which were organised but did not necessarily have an assessment.

Descriptions of courses
Certificates of attendance
Samples of materials

Informal learning/self-managed learning
Learning you achieved that was not organised by others

Voluntary activities
Self-study schemes

Work history and job descriptions
Aspects of your paid and voluntary work that are relevant to the module

Job descriptions
Responsibilities

Samples of work
If there is physical evidence of your prior learning other than certificates etc

Reports
Project plans
Designs
Photographs
Completed documents

Reports from employers/managers
If there is no tangible evidence of your learning it may be possible to arrange verification from third parties/employers/managers

Letters of verification
References
Records from HR Departments